The Importance of Windows When it Comes to Interior Design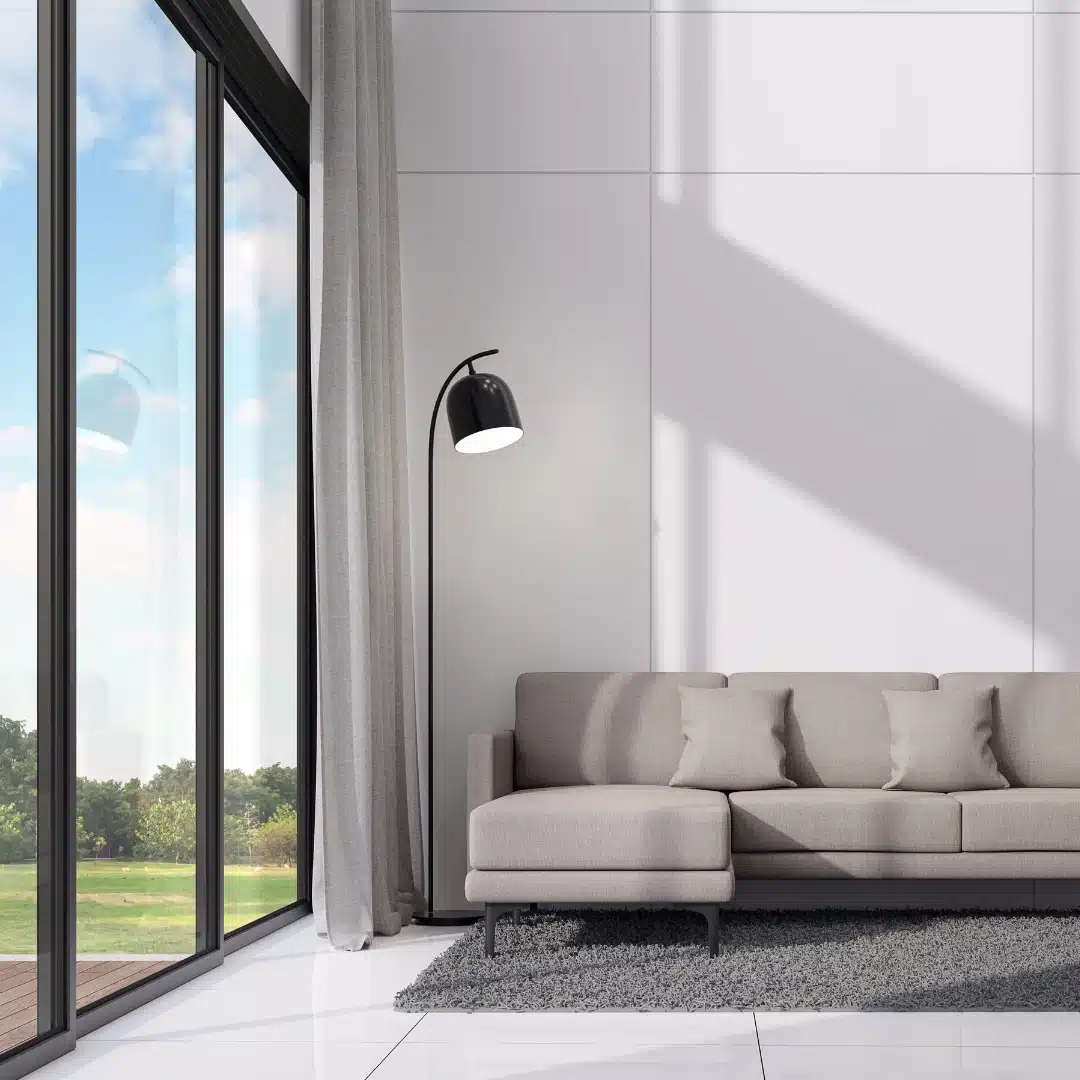 Windows are an essential design element in any space, as they are responsible for letting in light and fresh air, while providing views of the outside world. From the style of window to its placement, windows serve more than just a practical element. They are crucial when it comes to both enhancing the beauty and functionality of a space. This is why interior designers pay such close attention to the type, size and location of windows when designing a home.
Windows add character to a room and enhance its overall aesthetic appeal. The style of window chosen for a home can greatly influence the way a space looks and feels. For instance, large windows with clean lines and black aluminium frames, can make a room feel modern and sleek with a bold, contemporary feel, especially in contrast with surrounding white walls. In addition to this, the choice of thin aluminium door and window frames, not only allows for maximum natural light to enter the home, but further accentuates the modern aesthetic.
"Black aluminium door and window frames are an excellent choice, and one that a lot of my clients seek to install when looking for a sophisticated, yet practical look and feel for their home," said Amanda Lee, independent, Interior Designer based in Melbourne. She went on to say, "Not only are black aluminium door and window frames durable and low-maintenance, but they also create 'magic' by framing entrances and spaces, immediately drawing the eye in to a specific element within the home, something I like to call the 'mascara effect' – similar to how mascara accentuates the eyes." With less upkeep compared to traditional wooden windows, aluminium doors and windows makes a wonderful choice and are usually the go-to for Interior Designers.
Not all homes need a full window and door replacement to look stylish. For homeowners looking for a more traditional look and feel to their home, smaller, more ornate windows will give you just that. For an interior refresh, interior designers are more than happy to work with what you have and make significant improvements with a few cosmetic touches such as window valances or curtains and artwork or specific décor pieces, to further enhance and make the most of the available natural light and space.
"Having the right lighting in your home is important when it comes to creating mood and ambience, but natural light – now that's a complete game changer," said Amanda Lee. "Not only is it inviting and welcoming, but also boosts productivity and enhances personal well-being, which is why window placement within the home is a crucial element interior designers place emphasis on when renovating, or installing windows in a space. Essentially, achieving adequate light while maintaining maximum privacy at the same time, is an absolute must in every home design."
Having the right windows and doors in the home is also key when it comes to optimal ventilation, a crucial factor if you're looking to establish a comfortable and healthy environment. Proper ventilation can help reduce the risk of overheating, humidity and help stave off mould. Amanda went on to say, "This is where the size, type and location of windows while designing any space, especially in areas where proper ventilation is a must, such as kitchens and bathrooms is carefully considered." She added, "When it comes to specifically choosing windows and doors for any project, it's important to discuss recommendations with clients, and decide on choices that are not only practical and economical, but stunning to look at too!" To achieve harmonious and aesthetically pleasing designs, interior designers consider various factors when choosing windows, which include building façade, orientation, views, natural light and ventilation.
They also factor in climatic conditions and strategically place windows to allow for optimal airflow, while at the same time, ensuring privacy and energy efficiency too. That said, windows play a crucial role in the design of any space and should never be overlooked or underestimated. A well-planned and executed window installation not only enhances the beauty and functionality of a space, but also provides health and environmental benefits too, which is why interior designers strive to achieve the perfect balance for their clients to enjoy and get the most out of design.
At Select Windows, we have a dedicated team of professionals who will assist you in guide you through the process of choosing the right windows and doors for your home or business. By visiting our showroom on Sydney's Northern Beaches, you will have the opportunity to experience a fully immersive, hands-on experience with all our products. For a free quote or consultation, contact us on (02) 8294 0557.